Joseph Michael Photography, based in Toronto, Ontario, Canada, provides a wide range of professional photography services, from executive portraits, advertising and events, to family portraits and weddings.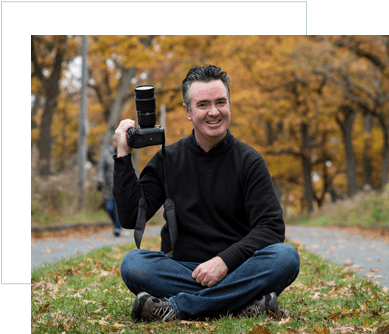 Professional Photographer
Owned and operated by Joseph Michael Howarth, the company has been in business in Toronto for eight years and has the pleasure of photographing for so many fantastic clients. Please have a thorough check through our many portfolio pages and be sure to check out our somewhat frequently updated blog.
In June of 2010, Joseph's World Cup photography exhibit Waving Flags: Toronto's World Cup Frenzy received a wide range of local and national media coverage including interviews on CBC radio and television, CTV's Canada AM and the Toronto Star. In April of 2007 he returned from six months in East Africa where he worked and photographed in the urban slums of Kampala, in the displacement camps of war-torn northern Uganda and at a rehabilitation center in Rwanda's capital, Kigali.
Joseph graduated from the University of Notre Dame in South Bend, Indiana with a B.A. in the Program for Liberal Studies. He studied at Syracuse University's S.I. Newhouse School of Public Communications for his master's degree in photography (M.S.).
He is a frequent contributor to Toronto Community Newspapers and was a longtime contributor to blogTO.com.
He is a citizen of both Canada and the United States. Joseph has lived and worked on five continents: North America, Europe, Asia, Africa and Australia.
He is not associated with and should not be confused with another photographer with the same name working in New York State.

Kind Words From Past Clients
"After assessing portfolios and interviewing numerous photographers, we chose Joseph Michael as our wedding photographer without hesitation. We felt that having amazing photos that would last for years to come was one of the most important decisions when planning our wedding, and Joseph's photos went above and beyond our expectations. Not only were the photographs spectacular, but Joseph's friendly, gentle, and imaginative personality helped make the day more relaxed and fun – who knew we'd be running through leaves in a park with Joseph right behind us? Beyond great standard wedding photos, Joseph's "photojournalist" technique made for some wonderful candid and memorable shots. We highly recommend that anyone looking for a wedding photographer end their search with Joseph … you won't be disappointed!"
– Stephen & Shannon
"Thank you for the fabulous job you did photographing our wedding. We felt an instant warm personal connection with you from our initial phone conversation. You made everything seem so easy and relaxed. The photos are terrific and they really show a story of our entire wedding day."
– Robin & Jack
"Two years later, we still receive compliments on our wedding photos. Joseph's easy going manner put everyone at ease and that really showed in our pictures. If you want a wedding photographer who will capture the story, love and emotion of your day, especially those beautiful, unscripted moments, your search is over with Joseph Michael. You will not be disappointed!"
– Virginia & Eric
"We had a chance to look through the pictures last night… it only took us about 2 hours to look at them all! I think I can speak for both of us in saying that we are very happy with the outcome. Thanks again for all your hard work it really was a pleasure. They really are all incredible… you did a fantastic job, and we will be recommending you to others."
– Dan & Anna
"We just caught a few minutes on our last night in Costa Rica to sample the pictures. THEY ARE AMAZING!! You totally captured everything we wanted and more- thank you!"
– Paul & Jess
"Have I ever mentioned to you that you are AWESOME! Honestly, thank you so much for working so hard on these and for being so great. I tell everyone who asks that you were by far, my favourite vendor to work with throughout the whole wedding. Again Joseph, can't thank you enough. Your skill in photography is a gift and I will always treasure these photos and am so grateful you were the person who took them."
– Stephanie & Birnev
"Joseph, you rocked the Kasbah! The photos are fantastico! But even more worthy of compliments than the photos, is your flexibility and consideration in working with us… thanks so much! You are permanently in our cell phone contact lists."
– Dahlia & Launy
"Joseph's diverse background greatly contributed to his social interactions with our multi-cultural family. His unparalleled attention to the group and individual relaxed us and genuinely produced the best photos we have ever taken. We can't believe how well he worked with our two huge families of diverse backgrounds to create multiple group shots. Our friends and family have all asked how we found such an excellent individual and even requested his contact information for their future events. When we met Joseph and reviewed his art, we knew he would document our wedding. We are so glad to have found him. Choosing Joseph Michael Photography was the best thing we did for our day."
– Craig & Menosh
"Ebi and I would like to give you the biggest thank you for being one of the best choices we made in our wedding planning! You captured our day so perfectly with picture after picture that we absolutely love. Thanks so much for everything! You were as prompt as promised and we cannot appreciate you enough!"
– Jen & Ebi
"Oh my goodness, I was having a rough day until I came home and found your package. We just love the photos!!!! Thank you so much for your time, for sharing your gift of photography, for getting them to us so fast and most of all for being part of this wonderful time with us. It couldn't be more perfect!"
– Neelam & Andy
"Firstly, we would like to extend our thank you's for capturing our special day in the most wonderful way imaginable! You went above and beyond our expectations with our engagement photos and especially with our wedding photos. Your professionalism, excellence, and CREATIVITY left not only us, but also our friends and family in awe of your work. Thank you again for doing such an amazing job!"
– Essence & Gabriel
"Thank you thank you thank you for the gallery! We were just starting to have that after wedding blues and this has really made us both smile! What gorgeous photos! Thank you so much for everything again!!! We had a brilliant time at the wedding and hearing back from our family and friends they loved everything and have had so many great things to say about you!"
– George & Meghan
Personalized Service
Tell us a bit about your event or photo shoot, and get a personalized quote.