Laughs That Last A Lifetime
Time with your family is filled with joy, laughter and love. At Joseph Michael Photography, we create timeless images that showcase what makes your family yours – with all of the fun-filled moments in between.
Get Amazing Family Photos!
Contact Joseph Michael Photography to schedule your family photoshoot.
Share A Smile, Share A Memory
Life moves fast. Family Photography lets you capture those special moments in timeless photos that you can look to for years to come.
Whether it's a new baby in the family, a family reunion, or a classic family portrait, at Joseph Michael Photography we will focus on what makes your family truly unique.
Every smile has a memory, every image has a meaning. Book a family photoshoot to make those moments last.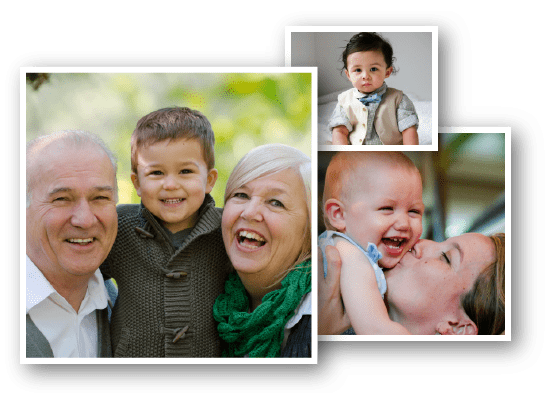 Capture What Makes Your Family Special
Family Photography by Joseph Michael
Your family means the world to you. You have history, laughs, heartfelt moments, and memories that are yours to share. That's why you turn to Family Photography that not only captures the essence of what your family is all about, but also creates beautiful images to be cherished throughout the years.
At Joseph Michael Photography, we take a personalized approach to every family photoshoot. Together, we'll discuss the location of your shoot, the feel you are trying to capture, and what images will bring your family dynamics to life.
With over 10 years serving the Toronto area, Joseph Michael captures photos that make your family personality shine through.
Book Your Family Photoshoot Today!
Contact Joseph Michael Photography to schedule your family photoshoot.
Toronto Family Photography Services
Events, memories, and special moments. Capture what means the most with beautiful Family Photography.
My, how the years go by! Every birthday marks another year of growth – bringing your family together in joy, laughter, and great company. With vivid Family Photography, you capture the moment in time and preserve it for years to come.
Looking for photos for your next birthday event? Contact Joseph Michael today.
Baptisms are a celebration of life and connection. Whether it is an infant baptism or someone committing their heart to God, it is worth having beautiful images to commemorate the moment.
At Joseph Michael Photography, we will work with you to cover the event in a respectful and meaningful way.
Anniversaries are about spending time together with your partner. They are moments you spend thinking back on the time you've spent together – growing, laughing, crying, and enjoying each others company.
At Joseph Michael Photography, we want to make your next anniversary special by helping you document just how far you've come . 
A Bar Mitzvah is a pivotal moment in a teen's life. That's why it's important to capture every celebratory detail with timeless Family Photography.
For a young woman's, her Bat Mitzvah is a time for celebration, growth, and community with those who have supported her the most throughout the years – her family.
Come together to honour this meaningful transition and create lasting memories through Family Photography.
Working With Joseph Michael Photography
Have a special, on-location event in mind? He will come to you to capture the unique environment and spirit behind your event. Make those times with your favorite people last forever with beautiful Family Photography.
Fun-loving with an eye for detail, Joseph brings a fresh, laid-back, and organic approach to Family Photography.
He values creativity, professionalism, and making his customers feel as comfortable as possible during their photoshoot.
Let your personality shine through!
Camera shy? No Problem. Feeling natural and comfortable is a top priority at Joseph Michael Photography. We believe that those organic moments create the best photos, so we do everything we can to make you feel right at home in front of the camera.
Authentic, High-Quality Photos
For your family album, you want images that show what your family is truly about – love, laughs, and lighthearted moments.
The quality of your family photography is everything. With the finest equipment and editing expertise, you can expect professional images that will stand the test of time.
Much Love from Our Customers
"Oh Joseph… The photos are just amazing. You take an ordinary family shot and make it a piece of art. You have a fantastic eye and manage to capture the essence of who we are, not just some canned family shot. You will go places my friend and do wonderful things with your art, but you must always return and take pictures of my family. 
Thank you a million times over for these memories. If there is ever anything I can ever do to help you, just say the word." – Arja & Rob & Gabe
Book Your Family Shoot Today
Ready to get professional images of your business or corporate event? I'd love to help.
Please send me a message if you would like more information or to book an appointment!
I'm looking forward to helping your business photography come to life!
Tell us a bit about your shoot and get a personalized quote.