All four seasons offer their unique pros and cons when picking a wedding date.  Most overlooked though is winter.  I love all four season, but the more I think about it, I might offer, it is the best season to get married!
There is no better way to illustrate this point better than this lovely two day wedding celebration of KK and Jedd last January.  They did it they way they wanted to do it, got married on a Monday in Toronto at the beautiful restaurant Terroni Price on Yonge Street in beautiful Summerhill with their closest family and friends, then partied on the weekend at The Drake Devonshire Inn in Prince Edward County.  Two wonderful days showcasing winter weddings at their very best! 
Practical Reasons for a Winter Wedding
To begin to understand how winter weddings can be superior, there are the practical reasons. These reasons include off-season discounts, guest availability, venue availability and having an awesome party to break-up the winter blues.  These are not small reasons.  Let's break these down in a little more detail.
Off-Season Discount: Discounted wedding? Say no more! Weddings are crazy expensive and vendors from venues to DJs and photographers typically offer a pretty significant discount for off-season weddings.
Guest Availability: As for your guests, they are a lot less likely to be double-booked and even better, not harbour some resentment they are missing a precious summer weekend at the cottage to go to your special union.  Trust me, it's a thing. 
Venue Availability: You might actually get the venue you want on a winter date and not have to wait three years to get married.  Quality venues book up fast, especially if you are looking for a Saturday.  
Party in the Winter: There is no better way to break-up the winter blues than a party in the winter.  Plus, having a wedding in the summer of fall means those seasons are all consumed by the wedding planning with a lot less down time to enjoy them.  Have a wedding in January and the rest of the year is stress free! 
Plus, it's sweat free!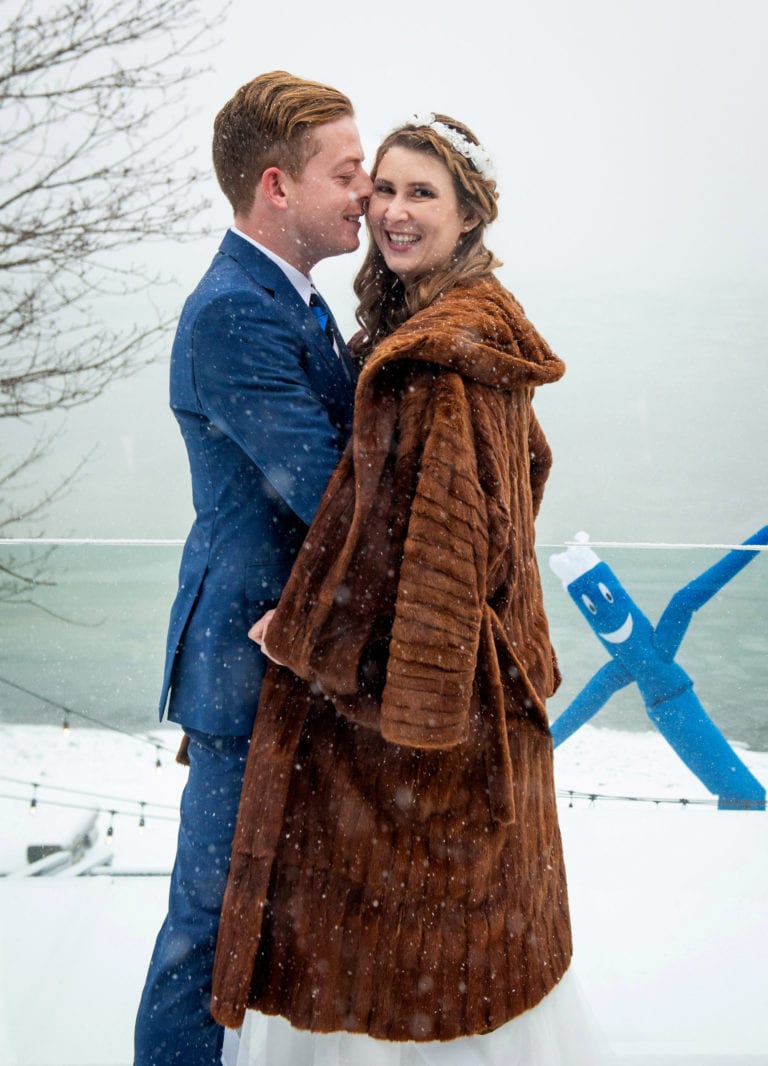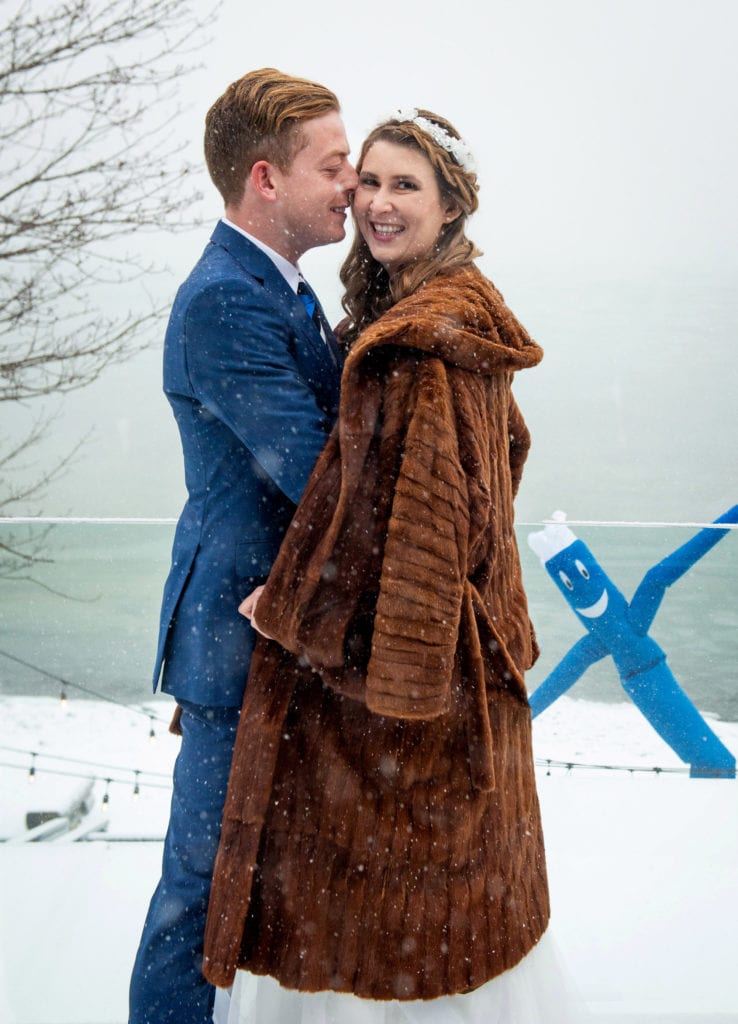 Creative Reasons for a Winter Wedding
In addition to the practical reasons for a winter wedding, there are the creative ones.  For a photographer, elements like snow, shorter days, a low sun and simply planning for indoor locations are all great advantages to a winter wedding.  
Snow: Snow is beautiful. End of story. It's no guarantee, but it's a lot more attractive than rain or sweat.  For KK and Jedd, they didn't get snow on the first day, but they got loads on the second.  About 20cm of snow in fact! It was cold, really cold, but we didn't venture very far, and with a nice shall or jacket, it can be both warm and beautiful! 
Shorter days: I love nothing more than a dusk or sunset shot, but the late nights of summer often put the dusk or sunset shot during the cake cutting or first dance.  A spring or fall wedding usually has the sunset during the best man speech.  Limited light doesn't make things easy, but with a little bit of planning, it can make things even more magical. 
Low Sun: Picture the sun at between noon and 3:00 PM on a July or summer afternoon.  It's hot, right overhead, and not flattering at all.  Sometimes a wedding only affords this timing for formal wedding photos, and it's far from ideal. A winter wedding on the other hand, it doesn't really matter where the sun is, it is always low in the sky and can be used to get some fantastic light.  
Plan for Indoor: The most common question I get for summer weddings is "What happens if it rains?" It's a great questions, because a lot of time the wedding photography has been based around an outdoor location.  With a winter wedding, you just plan to have an indoor location to take photos, and if everyone is game, you go outside if it's possible to go outside.   This is a huge mental shift and much less stressful. You don't cross your fingers for good weather, you just plan for bad weather and feel great-full when it's not.  For this wedding, both Terroni and the Drake Devonshire were great indoor venues to shoot, but also provided great outdoor environments  as well, especially in Summerhill.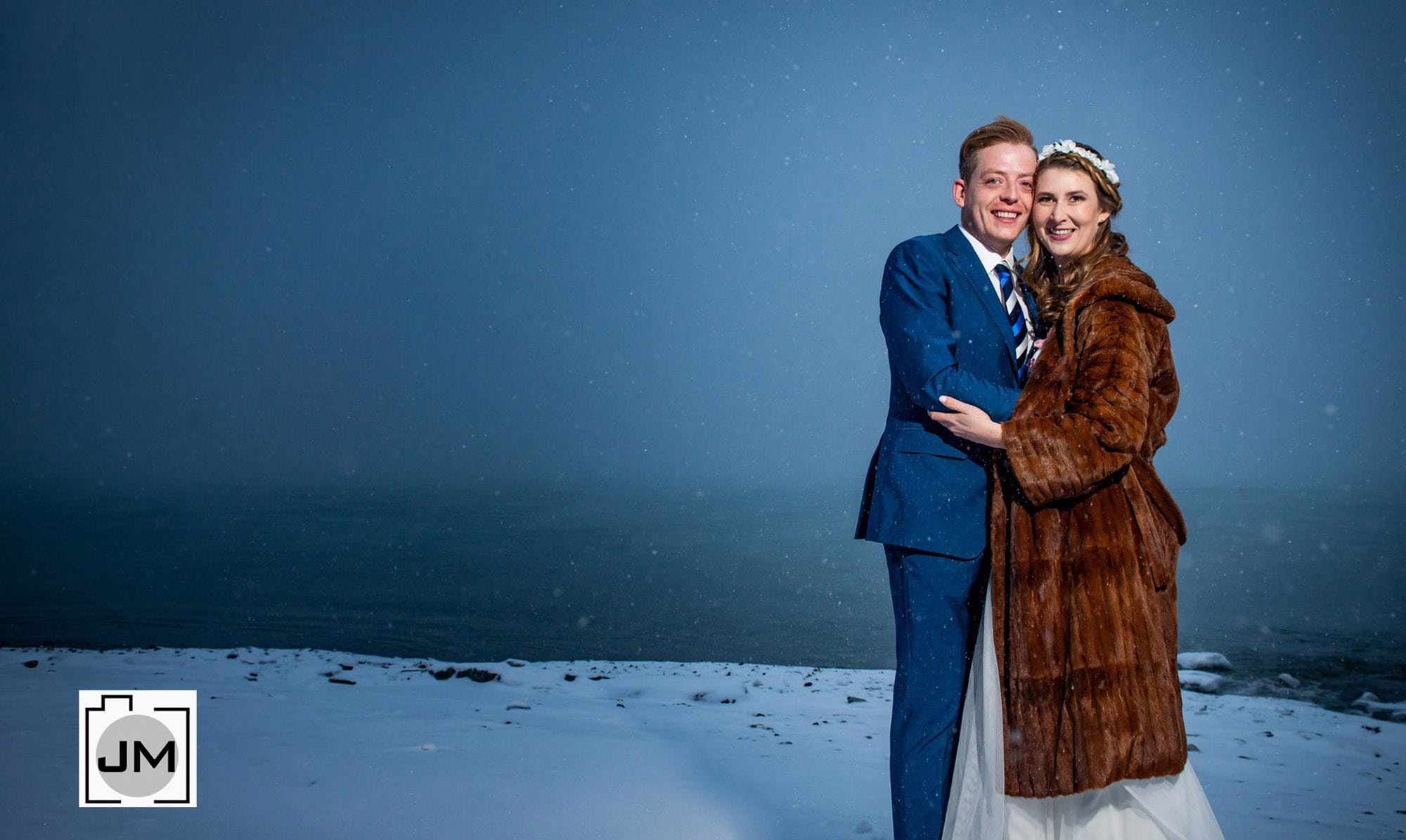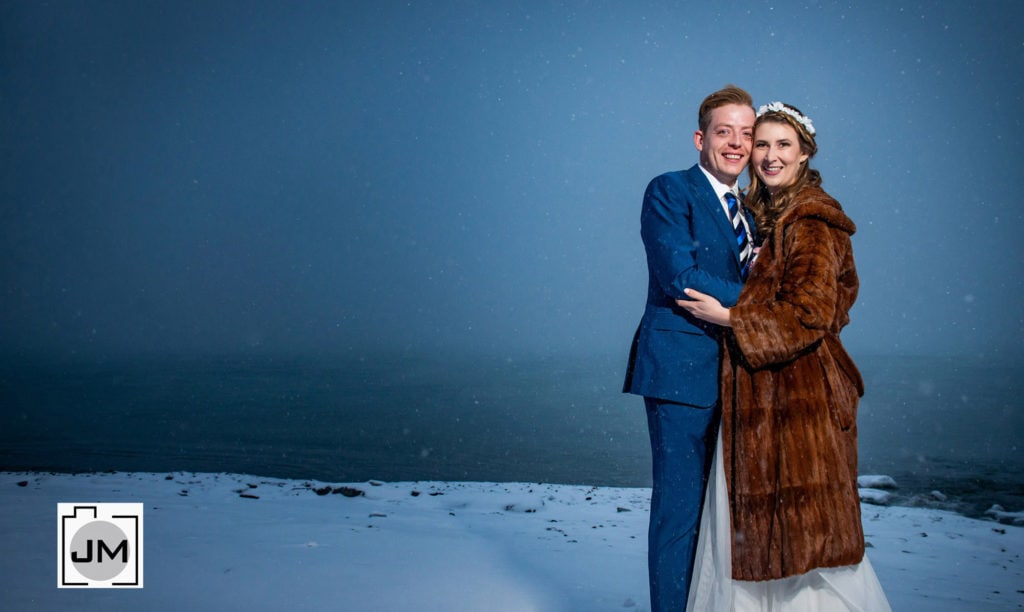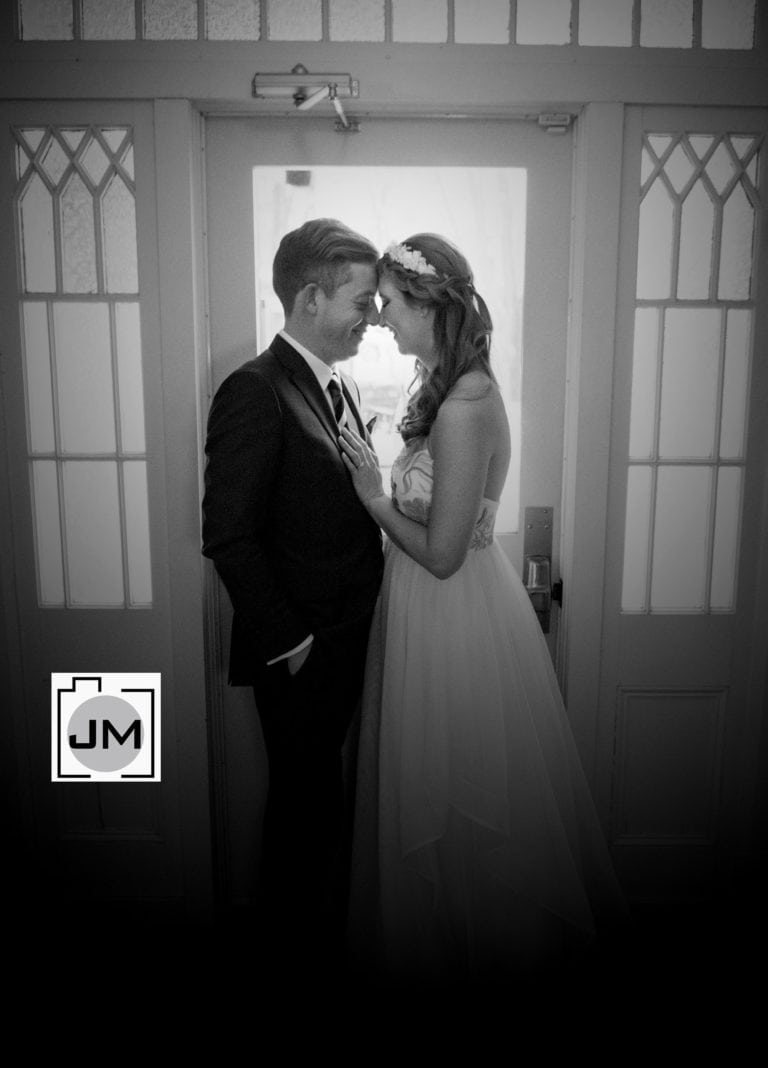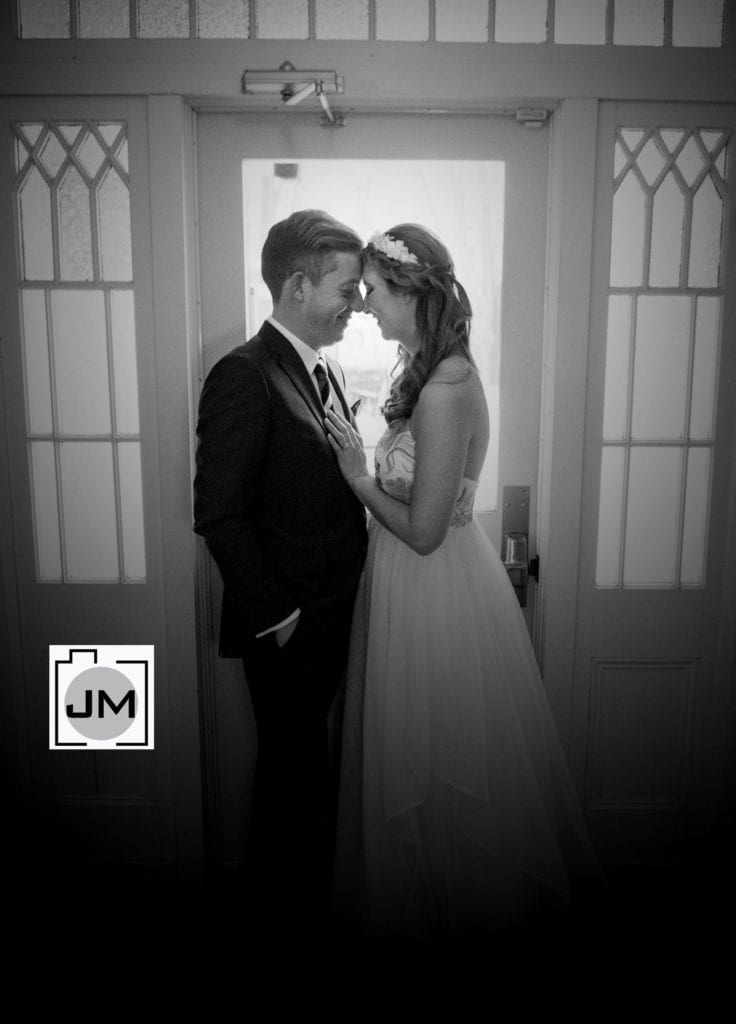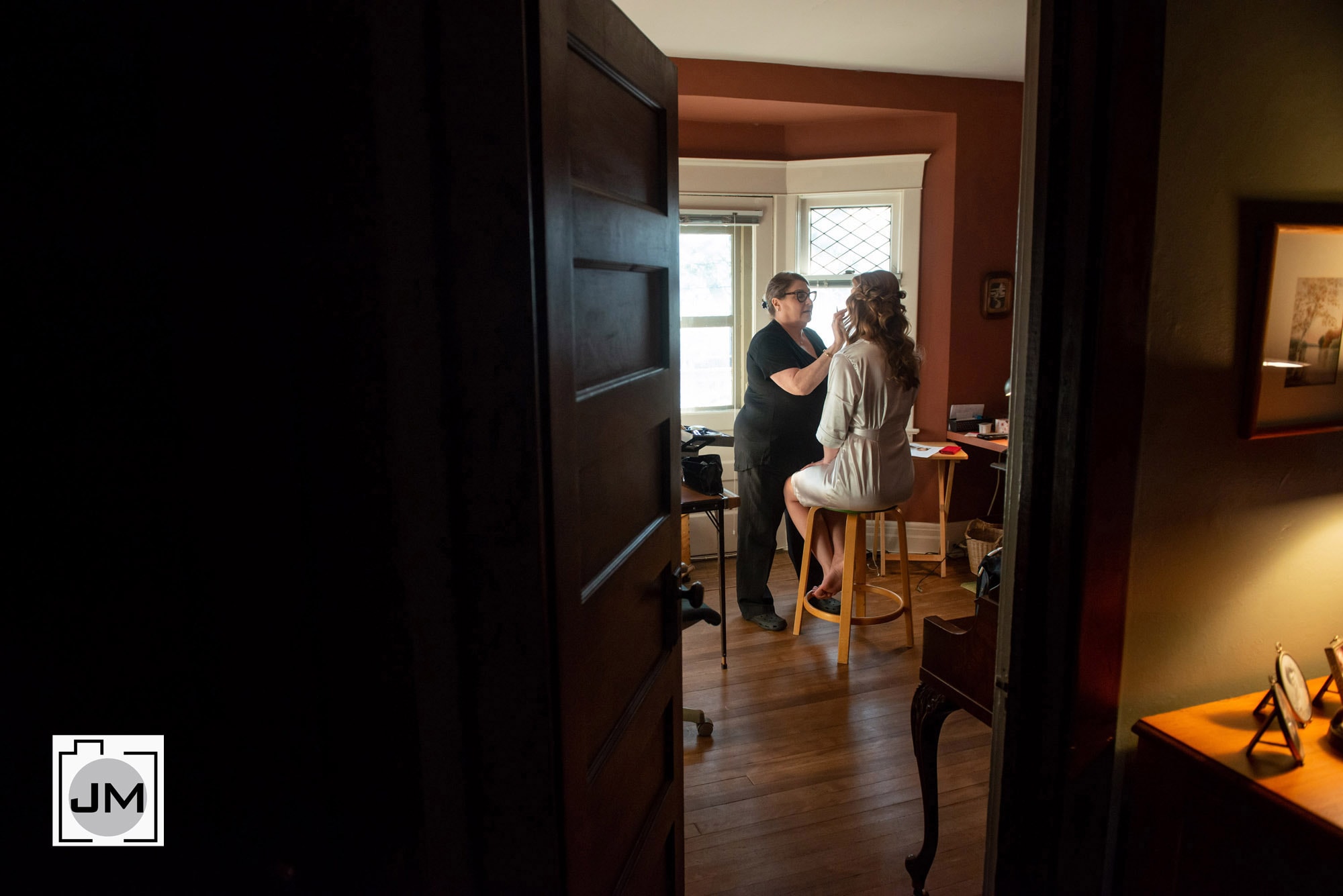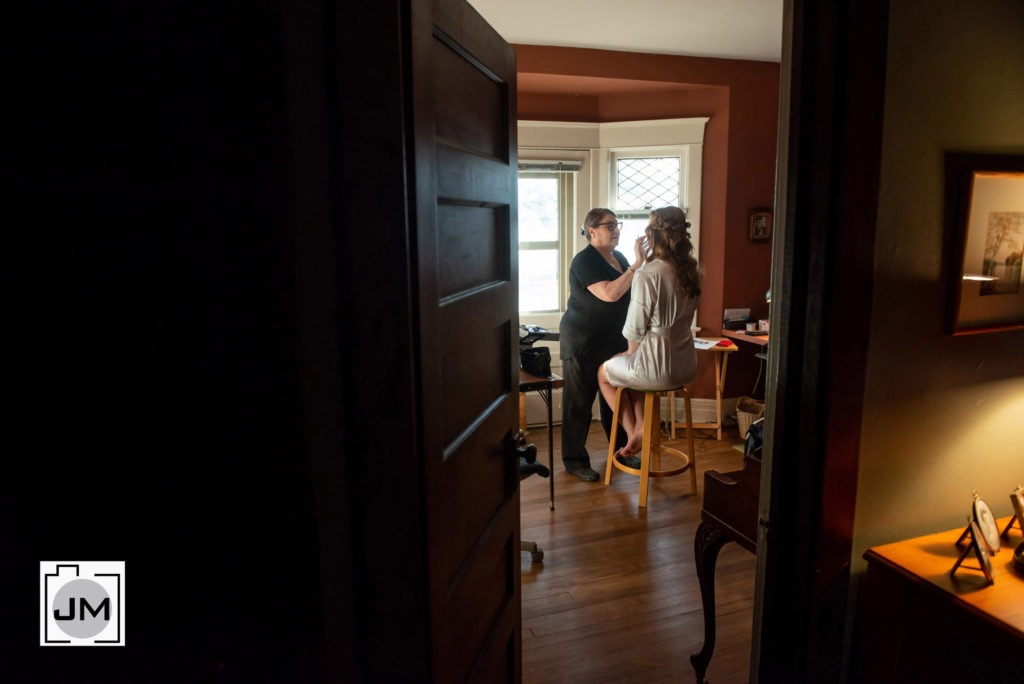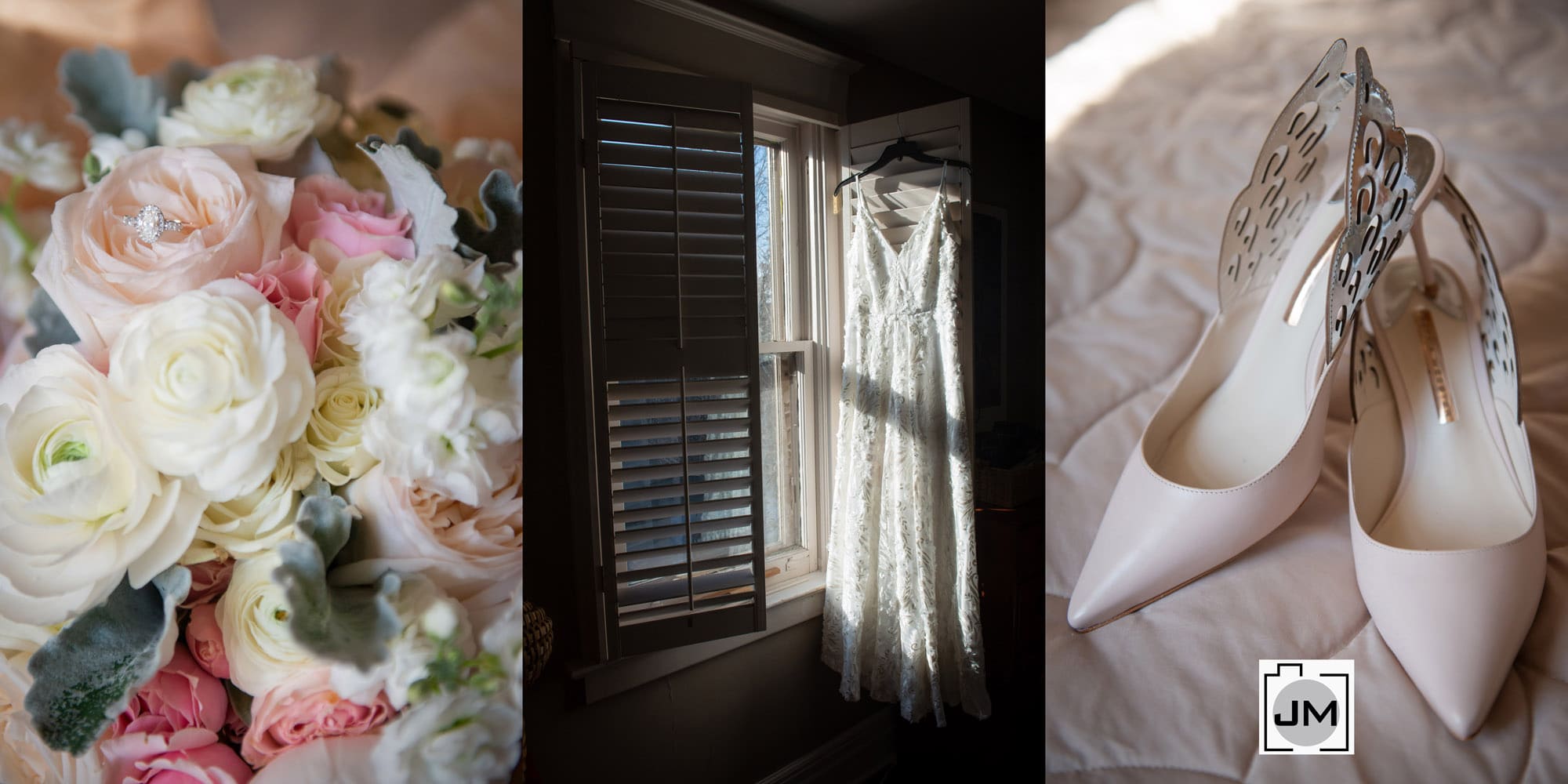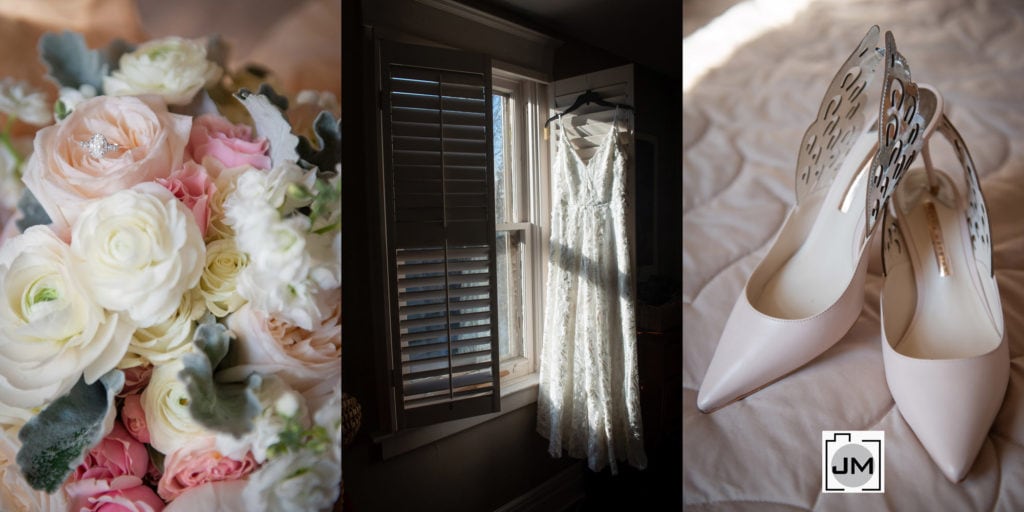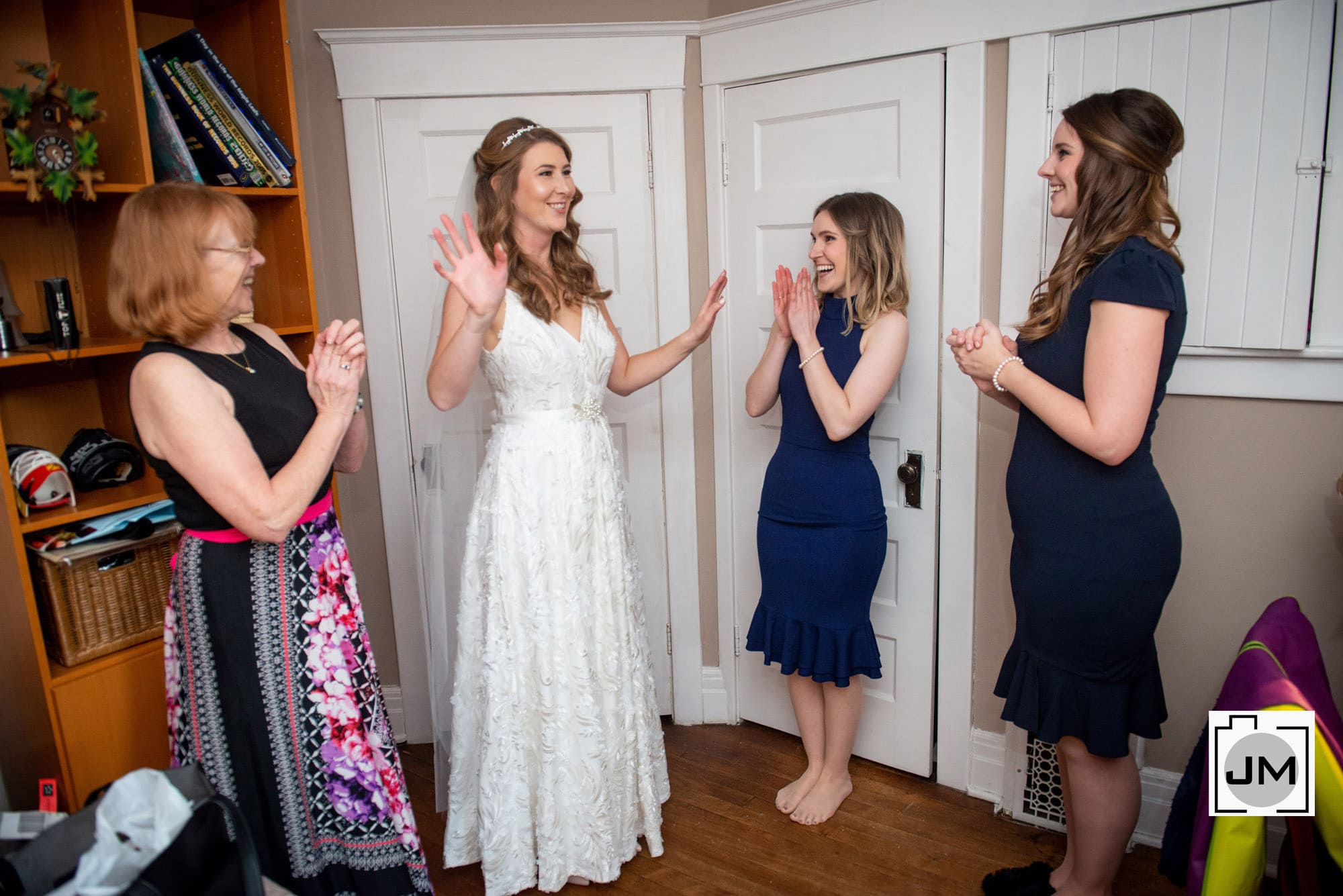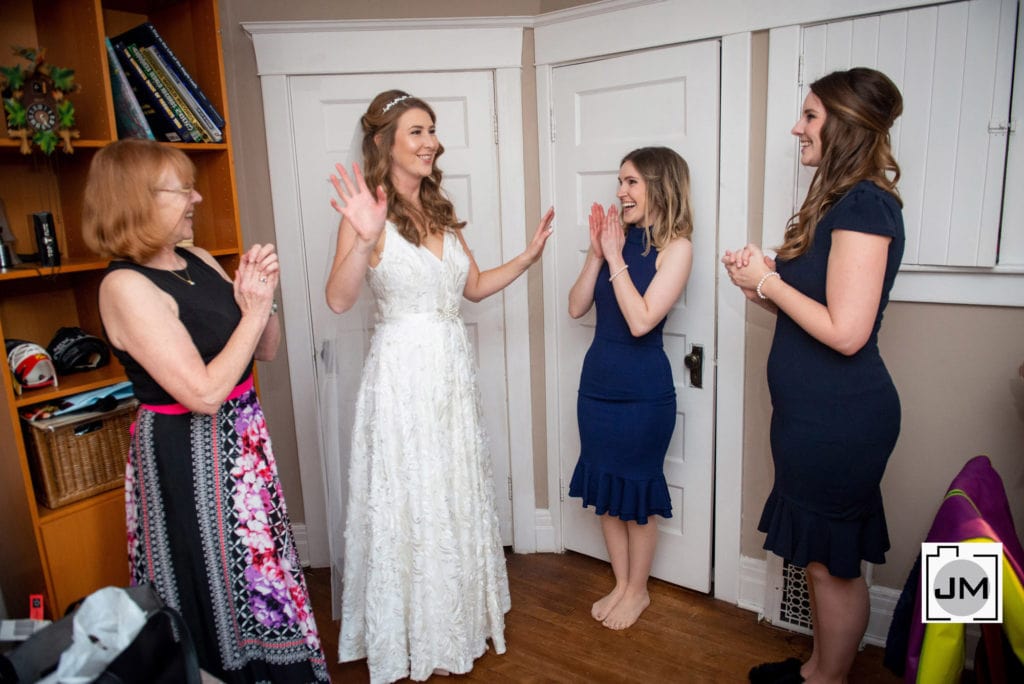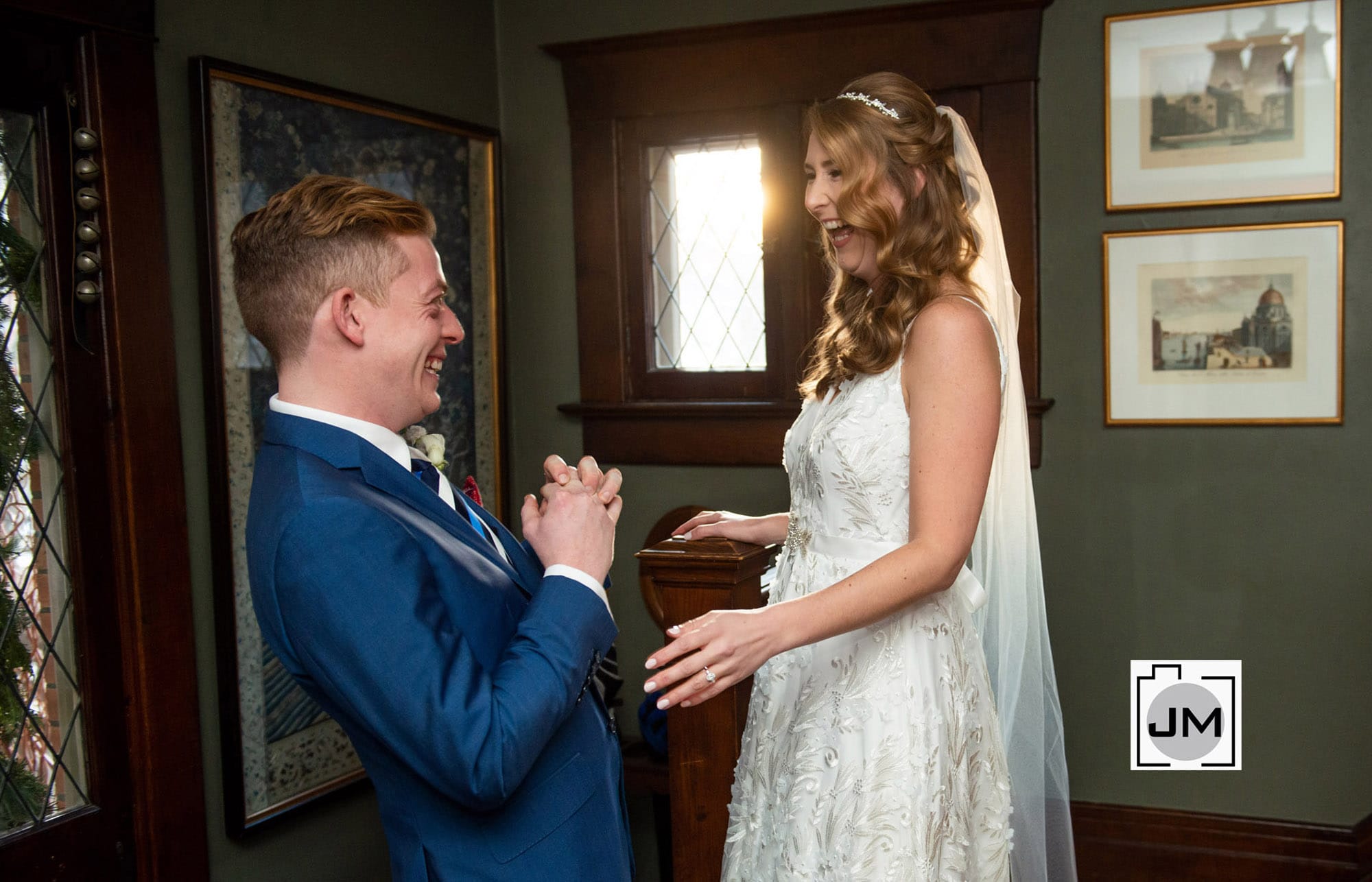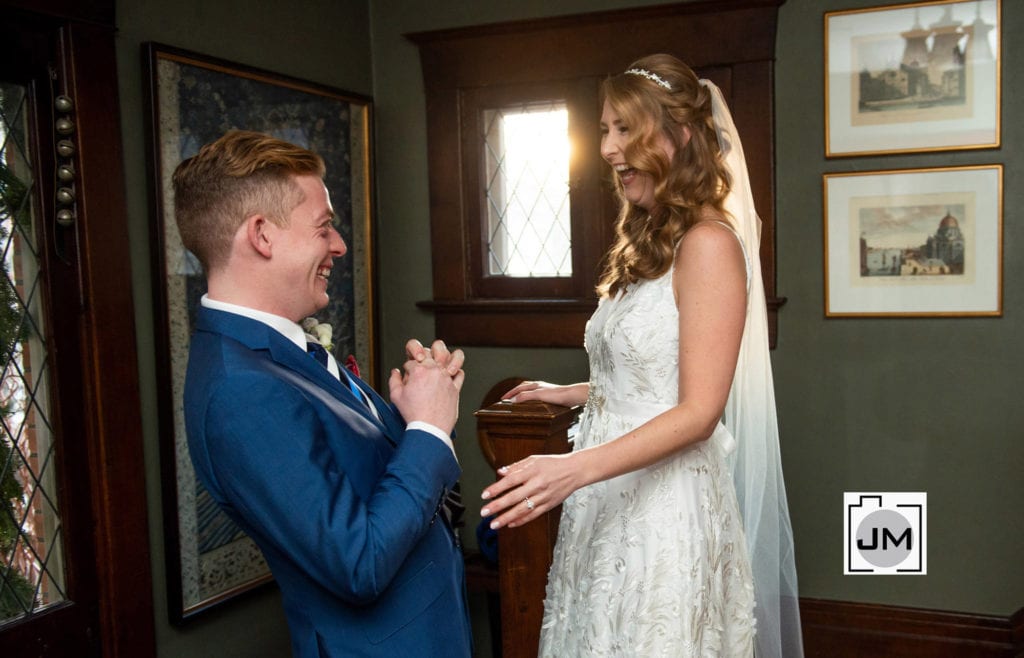 An awesome first look photo on their 10-year-anniversary of dating.  Got to love that low sun coming in through the staircase window.  Absolutely lovely. Thank you winter sun! 
It was winter that provided this amazing sunset, all before we even sat for dinner! 
A pinch of holiday lights in a Summerhill moment. Beautiful! 
I just loved the triumphant glee from these two after officially tying the knot.  Cheers to that! 
Most of the photos above were in Toronto on the Monday, the rest of the photos below are at Drake Devonshire in Prince Edward County, a photogenic venue if there ever was one!  Perfect for a winter wedding. 
What's more magical that sparklers in middle of winter? Even the wacky waving inflatable arm flailing tube man is getting in on the fun.